We clean all your exteriors, and we do it that little bit smarter!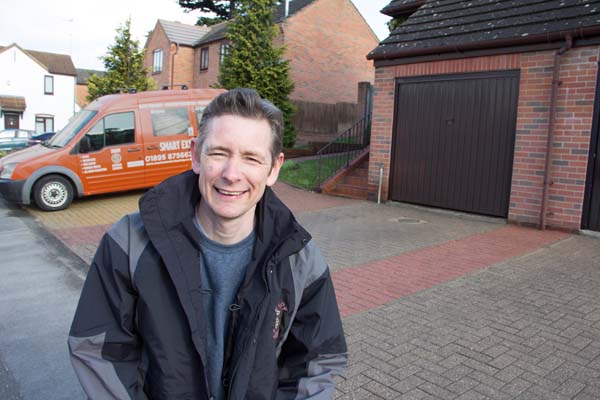 No matter what exterior surfaces you need cleaning, you can rely on Smart to deliver great result using the latest equipment, backed up by exceptional, old-fashioned personal service.
Gutters – let us unclutter your gutters and clean them,
ensuring that blockages and consequential damage are minimised
Your soffits, fascias and gutters are essential – but often overlooked – parts of your property and water damage caused by poor maintenance can be devastating.
Most people know they should check regularly that their gutters are clear, but don't have the time, forget, or perhaps don't feel safe on a ladder. Our gutter clearance and cleaning services takes care of it for you.
An annual clearance of leaves and moss will keep your gutters and downpipes free of blockages, allowing them to take the rain away from your home or office safely. And to enjoy a discount you can take out a 3-year service contract with us for an assurance that your gutters will be cleared once a year without having to worry about it.
It's not expensive, and could save you from expensive repair bills – or even injury. So contact us today for a quote and see the value we offer.
Decking – keep your decking looking as good as the day it was laid, and free from slippery algae, leaves and moss
A beautiful deck area is a thing of beauty, and provides a popular, comfortable and safe area from which to enjoy your garden or entertain guests, friends and family. But after a few years, it can – without proper maintenance – start to look scruffy and can become dangerously slippery. At Smart Exterior Cleaning, we're dedicated to reviving your decking, restoring it to the way it used to be, and giving you back a space to enjoy.
Our pressure-washing equipment is specially designed to wash away the slippery algae, moss and leaves, whilst retaining the varnish finish that made it so attractive when it was new. And if you want us to seal it to prolong its life and condition, we can do so at minimal extra cost.
Just call us today for a no-obligation quote, and let's get your decking back to its best.
Walls – the Smart Exterior Cleaning service includes all your outside walls too
Over time, dirt, grime and moss build up on the outside of all walls, and as well as spoiling the aesthetic appearance, can inflict slow but progressive corrosion which will ultimately lead to deterioration and potentially expensive repairs.
So regular maintenance will help to keep your walls in good condition, and ensure that your property looks its best.
Just call us today for a no-obligation quote, and let's restore your walls to their former glory.
Tarmac and pathways – regular treatment will ensure your tarmac areas and pathways are cleaner, safer, and last longer
As with all your other exterior areas, pathways and other areas laid with tarmac require some regular loving care. Our specialist equipment ensures that they are thoroughly cleaned but still remain intact.
And as with all the services provided by Smart Exterior Cleaning, we ensure that everything is cleaned up afterwards, including any surrounding areas that may have been splashed by our pressure jet spray.
To find out more about how Smart Exterior Cleaning can help restore your gutters, decking, walls, paths and other exterior surfaces to the way you want them to look, just call us today for a free, no obligation quote on 01895 875662.
Smart Exterior Cleaning and Maintenance Limited is registered in England and Wales,
Number 7840423, at 73 Glebe Avenue, Ickenham, Middlesex UB10 8PE.