At Smart Exterior Cleaning, we offer patio cleaning services to domestic and commercial clients in Hertfordshire, Buckinghamshire, West London and surrounding areas. Our patio cleaning process has been designed to restore your patio, decking or block paving to its former glory, whilst being gentle on mortar and leaving the surrounding walls and plants undamaged. Say goodbye to tired-looking, dirty and slippery patios and block paving with Smart Exterior Cleaning. We also offer decking and garden furniture cleaning services to customers who want to give their garden a lift this summer.
Do you look forward to hosting barbecues and garden parties this summer? Make the most of the good weather and get your patio or decking professionally cleaned by Smart Exterior Cleaning. Our specialist patio cleaning process allows you to enjoy a clean, bright patio this summer with minimal fuss. Once your patio or decking has been thoroughly cleaned, we apply a powerful treatment to minimise future green algae growth.
If you're looking forward to enjoying your sparkling clean patio or decking, why not get your garden furniture cleaned, too? Garden furniture is often neglected over the winter months, and the cold, damp weather allows algae to build up. When the warmer weather arrives, your garden furniture will be in need of a clean to ensure you can enjoy warm sunny days in the garden. Allow us to clean off the algae that's built up over the winter and get your garden furniture ready for those long, warm summer days and evenings.
Softclean Treatment for Patios and Block Paving Cleaning
We are proud to use AlgoClear Softclean, a specialist treatment for patios and other exterior surfaces. AlgoClear is great for controlling and cleaning mould, lichen and algae from patios, driveways and other exterior surfaces. Four times stronger than most other algae cleaners, AlgoClear can also have the residual benefit of preventing slippery biofilm from returning for a limited time.
Our patio cleaning process leaves you with a sparkling clean patio, without damaging the surrounding plants, walls and windows. We always clean up afterwards, leaving you to enjoy your sparkling clean patio with minimal fuss.
Please take a look at some examples of our work below and check out our customer testimonials. We pride ourselves on our excellent customer service and satisfaction and our Checkatrade reviews speak for themselves. We look forward to helping you enjoy your garden patio, decking and furniture this summer.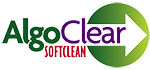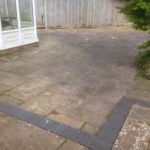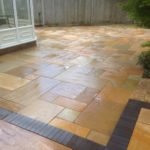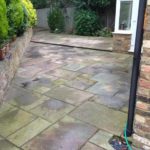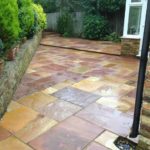 Patio Cleaning Company Serving London & Hertfordshire
Smart Exterior Cleaning are a patio cleaning company offering patio and block paving cleaning services to customers in Hertfordshire, London and surrounding areas. To find out more about how Smart Exterior Cleaning can help restore your patio to the way you want it to look, just call us today for a free, no obligation quote on 01895 875 662.
Smart Exterior Cleaning and Maintenance Limited is registered in England and Wales,
Number 7840423, at 8 Kent Close Uxbridge Middlesex UB81XR